Drawing inspiration from cinematic favorites, we've woven the essence of these iconic films into an afternoon you will not forget as we raise funds for our upcoming 30th festival. Your presence will not just support the arts but will also transport you to a summer in Italy, right here in San Luis Obispo, complete with Italian delicacies, music, and cinema.
   Nate's On Marsh will be our gracious host, offering a curated 4 course American-Italian dining experience inspired by their newly launched lunch menu. To add to the excitement, we've curated a few interactive delights to enjoy.
   Sip on Nate's On Marsh's signature Aperol Freeze or enjoy a tasting of Amaro at the Amaro Bar. Treat yourself at the Gelato Cart while basking in the last golden rays of Summer.
  We'll be topping off the unforgettable afternoon with a silent auction and wine pull, each offering a touch of Italian allure. Let's toast to one last summer escapade and an incredible afternoon, as we reminisce about the summer gone by where the memories are as endless as the Italian horizon as you help us ensure a vibrant cinematic culture in our community.
Thank you to our partner: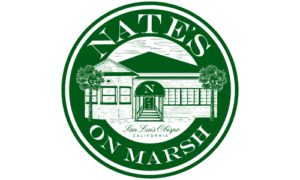 Not able to join us but still want to support?
Every donation, whether big or small, helps us curate diverse cinematic experiences, support emerging talent, and keep the magic of film alive in San Luis Obispo